Welcome from our Pastor!
On behalf of Mountain View Baptist Church, I would like to welcome you to our website! To some, it is a welcome back to brothers and sisters in Christ, friends and family and former church members who have been moved by God to other places of ministry.

To others, this is an invitation to come and see what great things God is doing through His children at Mountain View Baptist. It's not by accident that you are reading our web page or that we have had the pleasure of meeting you at our church. We are eager to know you, and we're excited to share with you the marvelous ways that Jesus can place your faith info action!
---
Mountain View Baptist Church's Vision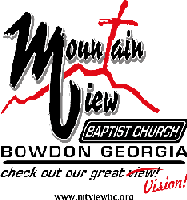 Love Loud - Outreach
Love Loud - Wednesdays
Love Loud - Relationships
Love Loud - Personal Walk
---